00049
The six-wheeled hybrid commuter car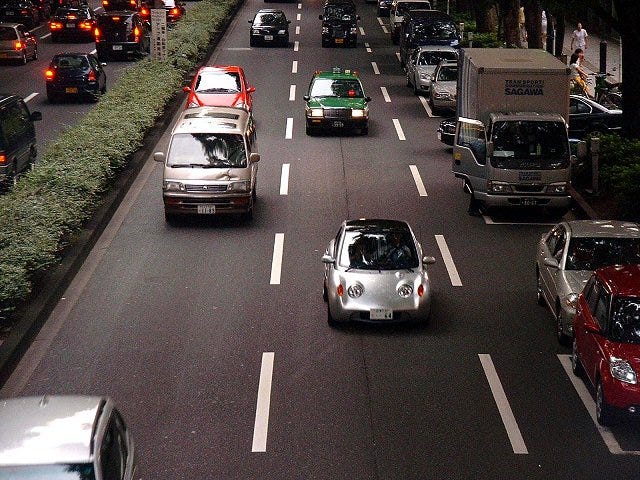 Image via Mooncraft Japan
You should have figured out by now that I have a special interest in aerodynamics, smart cars, obscure vehicles, and intelligent customization. Since the reaction to the 6-wheeled Briggs & Stratton Hybrid was so positive, I figured I'd bring forward this story about one of my favourite modern prototypes—and one I haven't read about elsewhere.
To start, this particular smart fortwo is the inspiration for my own car in a few ways, the composite work and chopping the roof…but I'd leave the extra set of driven rear wheels off the drawing board. When I stumbled upon it years ago I wasn't sure what to think: it's a smart fortwo with a chopped roof, in-wheel electric motors powering the rear wheels for a NOS-like boost. Seriously.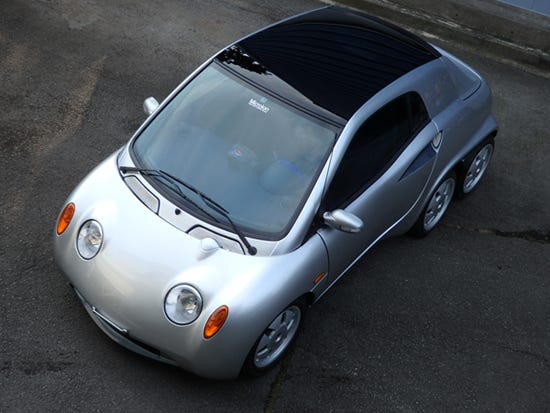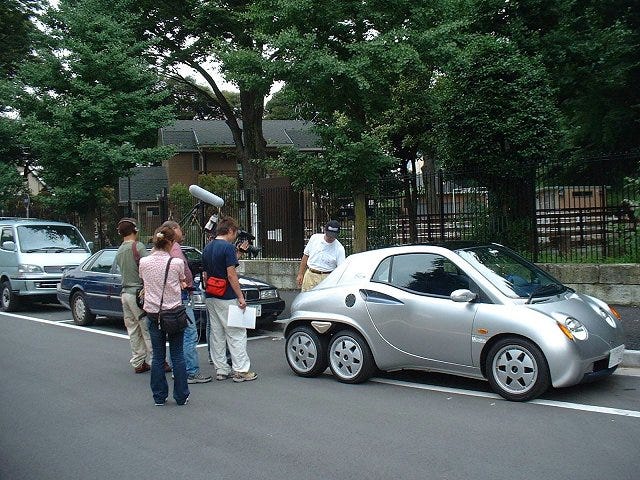 Image via Mooncraft Japan
It's the creation of a criminally under-the-radar designer and aerodynamicist named Takuya Yura, President of Mooncraft Ltd. Since 1975, Mooncraft has been involved in racing in Japan and abroad as the constructor MCS, but took a leap forward in 1986 when it built its own wind tunnel.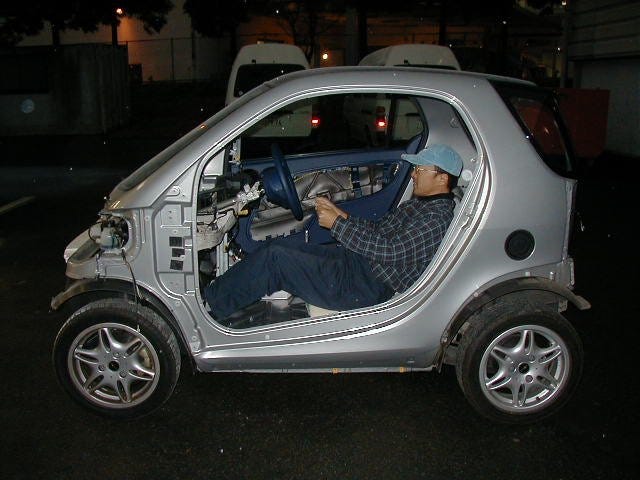 Image via Mooncraft Japan
Now I say: if you don't know Mooncraft, you know their work:
Tamiya Big Wig R/C car

Shoei X-1 helmet, designed for Ayrton Senna in 1991

Gran Turismo darling, the 1995 Tommy Kaira ZZ sports car

Mazda Junior Group C car (Mazda 717C)

1992 Yamaha OX99-11 prototype supercar

JGTC GT300 Championship-dominating 'Shiden' racing car
---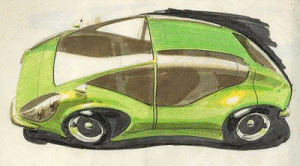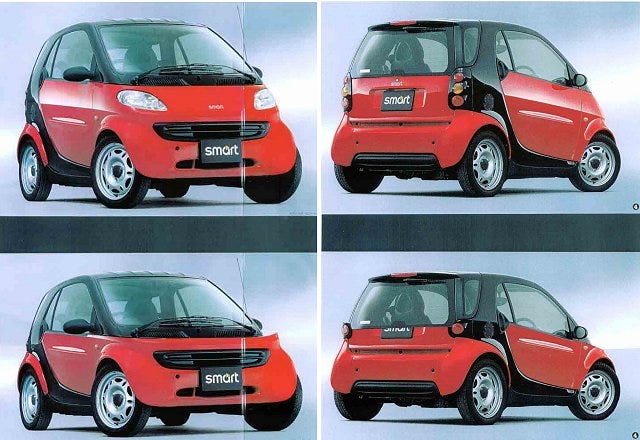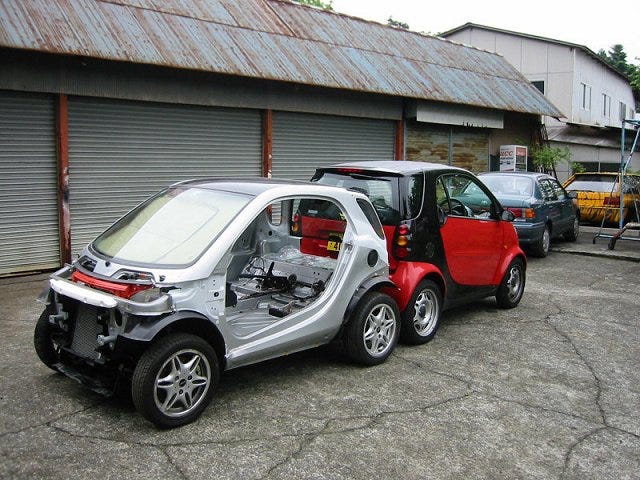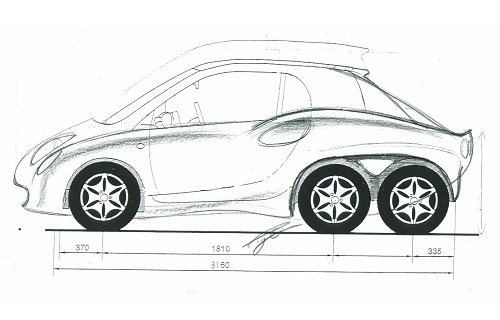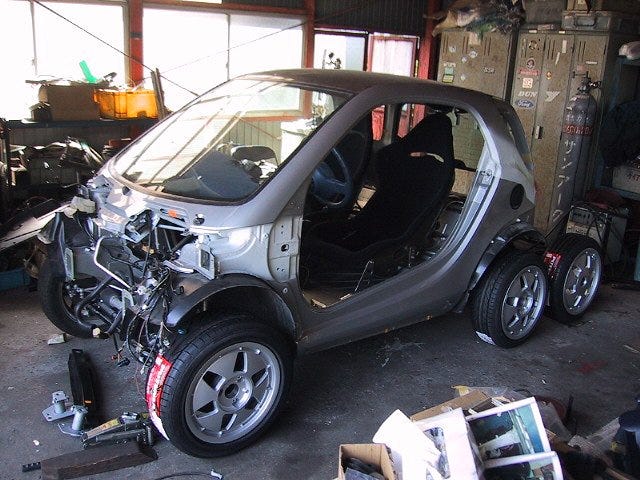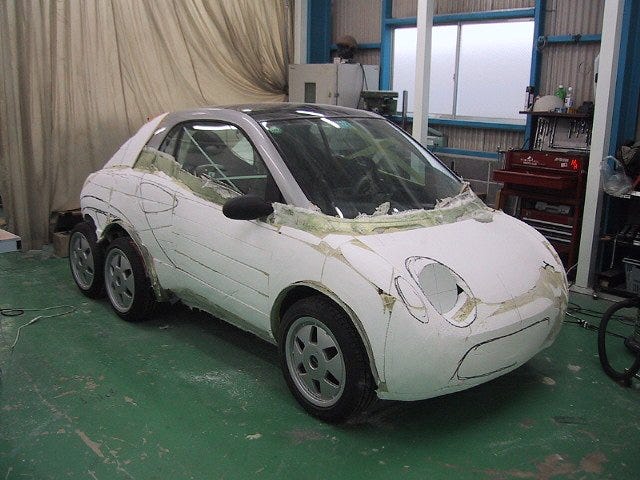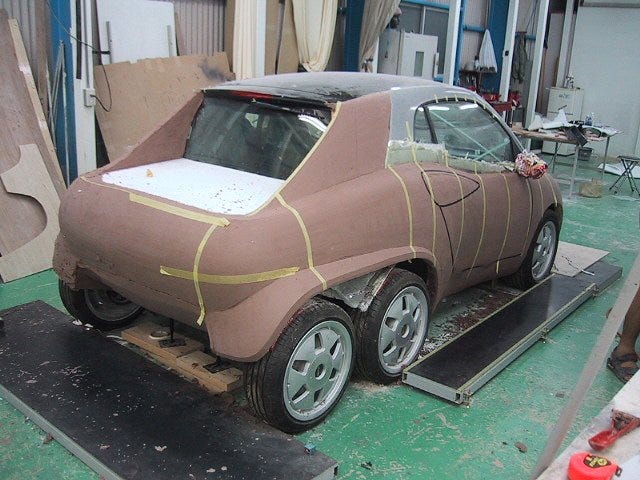 Images via Mooncraft Japan
In 2003, Yura dusted off old sketches made before Mooncraft was even a thing. The green sketch above was done in approximately 1969 when he was 18, Yura's idea for a city-sized sports car. Like a classic Fiat 600 Abarth, Yura envisioned it to be a squat, low pod with the engine at the back and rear-wheel-drive. He'd found the perfect candidate: the smart fortwo.
With some gentle tin massaging by his expert metalworkers, expert clay modeling and composites work from the racing department, and a few choice cast-off parts (the driver's seat is from one of the '90s JGTC Honda Accord race cars), the 6 x 4 .com became what you see here: a completely and utterly magnificent way to modify a smart car.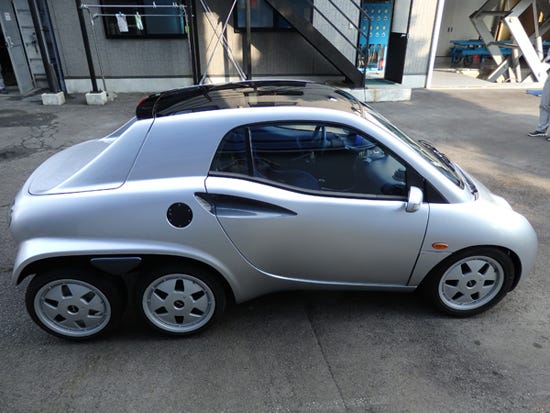 Image via Mooncraft Japan
The name stands for 6 wheels and 4-wheel-drive. Figure 61 horsepower from its 700cc engine plus an on-demand 96 horsepower from those two in-wheel electric motors. Its custom bodywork is molded in composite as one entire piece, then cut into sections and fitted onto the chassis and doors.
Better yet: it was designed as a one-off road car, and carries full road registration in Japan. It's not a mothballed prototype or temperamental race car: it's how a guy who has created forward-thinking vehicles his entire life spends his spare time.
Will you pay attention to Takuya Yura now?
Full credit to the build photos and information comes from the official Mooncraft staff blog.
More
Mooncraft 6 x 4 .com (Mooncraft)
Takuya Yura (Official blog)